With social media gaining more platforms over the years, it can be difficult to know where to start with your business on social media.
Do not fear!
We are here to help you. As a marketing agency, we love helping other businesses reach their marketing goals. Here are some suggestions you can try out with your business online for any social network.
1) Blog posts
Writing and sharing blog posts on your website and social media is a great way to gain backlinks and show what you are genuinely passionate about. Depending on your business, you can share a range of different blogs. Let's have a look at what blogs you can try out:
How to and tips related to your business.
If you are an e-commerce business, you may want to consider a how to/tips blog. A great example of a how-to blog is looking at the business 'Hobbycraft'. They are a big crafting business in the UK. They use blogs to sell their products and help with ideas for those who may want to get crafty:
Another great blog example is the famous 'Indeed' recruitment site. They have created hundreds of blogs to help people with all kinds of job tips from interview prep to job comparisons:

3) Feature user-generated products
If you don't have time to create your own content, get your audience to do it for you!
It's a great way to involve your followers, who would also love to see their creations on your
feed.
Here is an example that Lego posted, which involved their audience: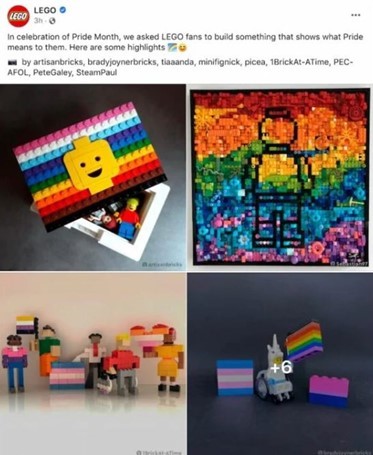 4) Use humour
Using humour in your posts is a great way to gain customer loyalty. From memes, TikTok, and humour in copy can brighten a potential customers day.
A great example of humour is the Aldi and M&S caterpillar feud. M&S decided to take Aldi to court for their Cuthbert caterpillar cake, which had a resemblance to their Colin caterpillar cake. But Aldi kept things funny on their Twitter campaign, which even involved more of their competitors to join in.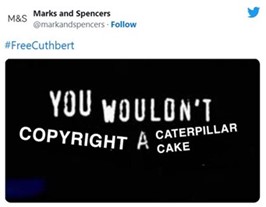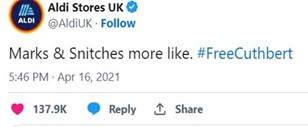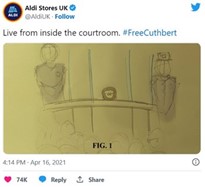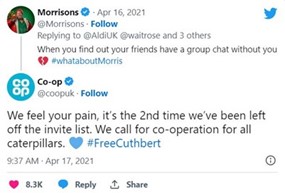 5) Run competitions
Running a competition is a great way to get your brand out there and gain a bigger following and engagement. Using terms such as 'To enter, follow us, like and share this post', enables people to share your content, commenting on it, and introducing your business to their friends.
For example, this competition by Smyths Toys recently hosted a competition on their Instagram. They used the term 'Like, Tag and comment who would love this'. It's a great marketing tactic to get their audience to introduce a second audience, who would be a potential buyer.
6) Tease your audience
Teasing your audience is a great way to market your business and products. It gets people excited for what's coming and builds discussions. These teaser campaigns are a great example of teasing something new: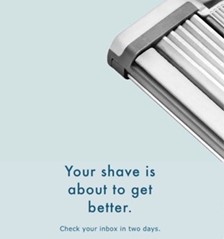 7) Highlight important news
So why should businesses address news?
It helps demonstrate that a business is current up to date with social affairs. Especially those which may impact the business or customers. For example, if your customers are mainly from Ukraine, it will have a large impact to the business.
As well as this, posting news such as our late Queen passing shows empathy. You don't want to be posting memes when the world is mourning.
When the Queen passed, most businesses posted about this news to their socials, such as the popular clothing brand Boohoo: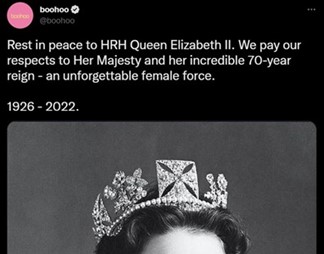 8) Share testimonials
Sharing your reviews is another great content idea to post. You want your audience to see that you are a trusted company to buy from. If a potential customer wasn't sure whether to purchase from you, many people will go to reviews first.
Besides, why wouldn't you show off your great reviews?!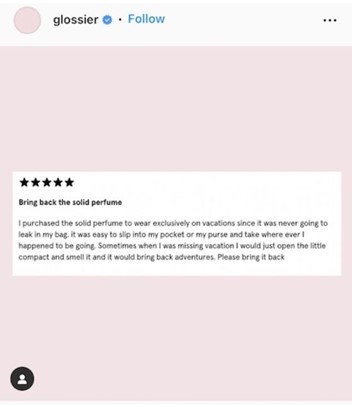 9) Sharing any national/international events
Getting involved in national events is a great way to market your business. For example, Black Friday is a big, discounted price day for businesses. You can promote your Back Friday deals and offers you have in store. Another national event is Movember month, an event where you grow a moustache for mental health awareness in November. As a company, you can do many posts such as rate the best moustache, post of moustache mugs bought for employees, or post your employees with their moustaches asking for your audience to sponsor them for charity: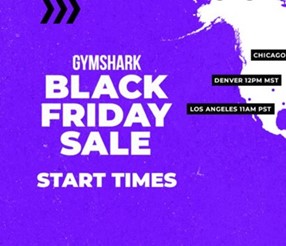 10) Host a live Q&A
A live Q&A session can help you and your audience feel connected with each other. It helps the audience see who you are and what your personality is like when interacting. It also gives your followers the opportunity to ask any questions and find out more about you and the business. It is also a great way to keep your audience engaged!
Don't worry if you feel a little nervous, you can always practice first by changing your audience setting to practice on Instagram Live.
11) Promote email sign ups
Email is a very effective tool for marketing your business. You are continuing your relationship with an audience who are genuinely interested in your business. For example, as a marketing business, you may promote your email sign up on social media for those who are looking for 'weekly marketing tips' or 'schedule a free 30-minute appointment with us when you sign up to our email list.'
This gains you more contacts, who you know are interested in this information and eventually make a purchase from you.
12) Post a new product
If you are an ecommerce business, posting your products to social media is a must, especially if it's a new launch.
Ensure your photos are professional, with the right colours and lighting.
Check out this new product launch by the famous Ben & Jerry's: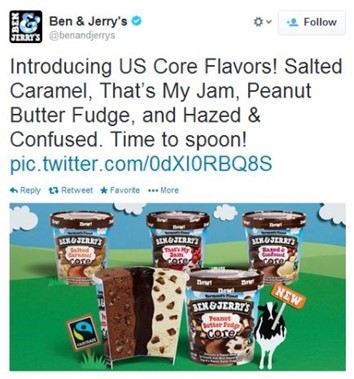 13) Post your accomplishments & team events
Posting accomplishments ensures your audience are engaged with your company, by showing them how they have helped grow your business.
Why would you want to hide your accomplishments?!
An example of this can be reaching a certain number of followers, or an anniversary of how long you have been in business. As well as this you could also thank your followers, by giving them a 10% discount for that day.
If your business is at an event, you can also post about this to your social media. For example, if your company went to a business awards event, you could shout about it online, with a group team photo.
Here are some great examples below: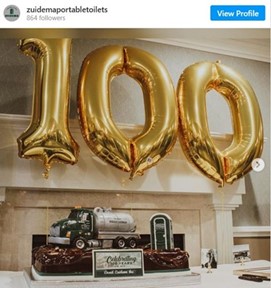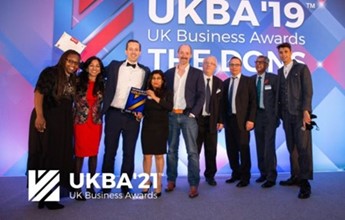 14) Show off your company
People are very nosy online; they like to see what's going on behind businesses.
Why not show off your business by posting anything, from behind the scenes, before and afters, or even just an office dog photo! This is a really great way to show off your business and give your audience a deeper understanding of who you are and have that deeper connection with client experience.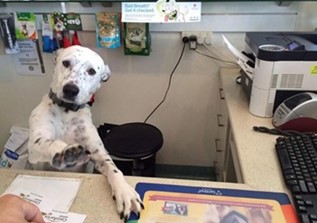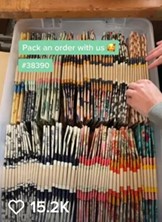 Let's recap
There are so many different posts you can create on your social media pages, and this isn't even all of them! Posting different content will keep your audience interested and they will look forward to your content.
Posting regular content can help your potential customers see more of your brand, business and who you are. It's important to get out there on social media to reach your audience and build trust.
Give these ideas a try you don't have to stick to one type of content, there are so many options- see which ones work well for you and your business and repeat those more often, but still keep it varied!
Now that we have given you a load of ideas, off you go - start creating your content!