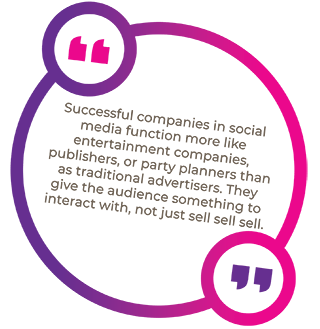 Social Media is one of the key communication tools for today's marketing. Our Social Media courses will give you the skills and knowledge you need to confidently and successfully use Social Media as a marketing channel.
From creating a strategy to understanding the basics of the most popular platforms, we'll give you the skills so you can be confident in your approach with our Beginner Social Media Course.
Led by one of our Social Media Experts, who have delivered courses on behalf of City College Plymouth, our courses take a very hands-on approach and are fully geared towards growing your business.
Our course is designed for beginners who need to get to grips with the essentials of social media and then digs a little deeper helping you maximise your activity with a more in-depth look creating the right content.
We can also offer completely custom training or tailored courses for your business where we can provide more focus on a certain area or more advanced information on paid advertising campaigns, for example.
Call us on 01752 651414 or email [email protected] and we can happily put together a bespoke package for you.
Beginner Social Media Course
We'll get you started in understanding why a strategy is important to ensure a successful approach to social media. We'll then look at all the popular platforms available for use and cover the basics working with you to determine the best networks to be present on.
Bespoke Social Media Course
If you already understand the basics, and would like something different for you or your team, our Bespoke Social Media Courses will be the perfect option for you. Just let us know what you need to learn and we'll create a masterclass that leaves you walking away feeling like an expert.
- WHAT OTHER ATTENDEES SAY -
Antonia and Ashley supported me with creating a social media strategy and took their time to train me in elements of Social Media, SEO and generating more leads from our online presence. I found the training really informative, interesting and easy to follow and they created a useful guide in which I can refer to on an on-going basis.
- Jemma, Alexandras Care